MLB Preview 2013
NEW YORK YANKEES
Manager:Joe Girardi (6th Season)
Roster
Likely Starters
C Francisco Cervelli (Age:26)
(2012 Stats(Yankees):1 Walk 1 run in 3 Games Played)
With the departure of Russell Martin the catching position is now wide open for the Yankees. Guessing they'll hand the job to their coveted catching prospect Cervelli who I know they love but also look for Chris Stewart to also try to take the catcher spot. Stewart may be the better option now but with the team likely going ahead with Cervelli for the future I'd imagine they would want to get him into the lineup now.
1B Mark Teixera (Age:32)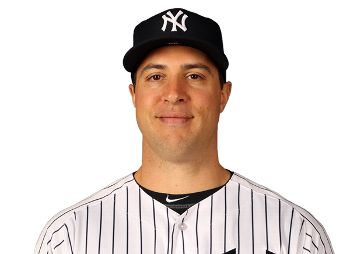 (2012 Stats(Yankees): 123 Games  113 Hits  .251 Average  24 HR  84 RBI  54 Walks  2 Stolen Bases
Once again you know what you are going to get out off Teixera power hitting and excellent fielding. The only concern I would imagine with Teixera as he starts to get up there in age like many of the Yankees players is that health became a concern once again for him last year. I'd expect about 20 HRs from him this year and excellent fielding and still is a scary power hitter in this lineup even as he now starts to get older.
2B Robinson Cano (Age:30)
(2012 Stats(Yankees): 161 Games 196 Hits .313 Average 33 HRs 94 RBI  61 Walks  3 Stolen Bases
Easy to say that Cano is and will once again be the best hitter and even best overall player on this team. His mix of power, average, and great fielding is unmatched by any 2B in the league and is an essential piece on this Yankees roster. Even better he stays on the field basically all year and if any player is a sure thing on this team it's Cano but more players will need to start to follow more in his path for this offense to be more successful than it's dreadful finish last year.
SS Derek Jeter (Age:38)
(2012 Stats (Yankees): 159 Games  216 Hits  .316 Average  15 HR  58 RBI  45 Walks  9 Stolen Bases
Many people asked whether or not Jeter had reached his end last year and whether he did something or not he answered back with an outstanding season and a huge no. It all fell apart for the Yankees in the playoffs last year when Jeter went down and he is the biggest question in Yankees camp only starting baseball activities a few weeks back. If Jeter does return healthy for Opening Day I think we will start to see the decline of Derek Jeter this season as he draws very near 40.
3B Kevin Youkilis (Age:33)
(2012 Stats(Red Sox/White Sox): 122 Games  103 Hits  .235 Average  19 HR  60 RBI  51 Walks  0 Stolen Bases
After a dramatic 2012 where Youk was drove out of Boston and a weird stint in Chicago here we are with Kevin Youkilis in pinstripes an unlikely scene. The only reason Youkilis is here, is the injury to Rodriguez that will likely sideline him for the season and last year was at times atrocious play from the usually great hitter. It's tough to say whether we'll see the past power of Youk or something mediocre but I would imagine he'll give around what he gave last year probably 15 HRs 55 RBI and around a .250 average.
LF Brett Gardner (Age:29)
(2012 Stats(Yankees): 16 Games  10/31 Hitting with 2 RBI
It was a rough 2012 for the speedy Yanks OF missing of the year with multiple injuries now he returns to a job in LF that's all his. In the past we've seen incredible stuff from Gardner with around 130 hits and around 40 stolen bases and I would expect him to be that once again this year. Gardner has some incredible talent and his return from injury is a huge boost for the Yankees going into this season.
CF Curtis Granderson (Age:31)
(2012 Stats(Yankees): 160 Games  138 Hits  .232 Average  43 HR  106 RBI  75 Walks  10 Stolen Bases
The Yankees finally saw the offensive explosion Granderson is capable with a complete power blast in 2012. While Granderson was great with his 43 HRs he has something to prove going into camp as he was from what I saw the biggest colprit of the Yankees pathetic offensive performance in the playoffs last year. Once again Granderson should give 35-40 HRs but really needs to get on base more with his blazing speed. He is much more capable of something better than a .230 average and needs to be in 2013 with an offense that may be even weaker.
RF Ichiro Suzuki (Age:39)
 
(2012 Stats(Mariners/Yankees): 162 Games  178 Hits  .283 Average  9 HR  55 RBI  22 Walks  29 Stolen Bases
With Nick Swisher gone Ichiro once again returns to RF for the Yankees and at age 39 it is so unbelievable what kind of production this guy still puts up. If Ichiro can field solidly and give anywhere near the 178 hits he had last year it will be a success in a likely bridge year in RF for the Yanks. Ichiro goes into this year likely the last of his Hall of Fame worthy career and the utter consistency he has shown year in and year out is stunning and if he can do it again it will be a tremendous boost.
DH
DH Travis Hafner vs RHP and Eduardo Nunez vs LHP
Bench
C Chris Stewart, 1B/OF Juan Rivera, OF Matt Diaz
Injured
3B Alex Rodriguez (60 Day DL)
OFFENSIVE OVERVIEW
The Yankees are drastically growing in age and most of their opening day roster is over 30 and with that you can get lots of inconsistencies hitting. Yankees will get some much needed speed with a full season of Ichiro, Granderson, and Gardner who have incredible stealing potential right there. The outfield seems to be in solid shape headed into this season but the questions still remain in the infield. As always you expect Cano to be the backbone of this team but around him the questions are everywhere, Will Jeter be ready and productive? Can Youkilis produce? Can Teixera stay healthy? are all very valid questions headed into this season. I think you will get the power from Teixera but on the other side you will see some struggle from Youkilis and that decline of Jeter will start to become evident this season. As for Catcher there are 2 choices a more offensive Stewart or a more defensive Cervelli and I would take the latter especially with him going forward as your future catcher. The Yankees offense does produce on a yearly basis and I think they should put up big runs once again this season as it will be even more important with the struggles I envision in their pitching staff.
PITCHING ROTATION
CC Sabathia (Age:32)
(2012 Stats(Yankees)3.38 ERA (15-6) 197 Strikeouts 1.14 WHIP
Huroki Kuroda (Age:38)
(2012 Stats(Yankees): 3.32 ERA  (16-11) 167 Strikeouts 1.17 WHIP
Andy Pettitte (Age:40)
(2012 Stats(Yankees): 2.87 ERA  (5-4) 69 Strikeouts 1.14 WHIP
Ivan Nova (Age:26)
(2012 Stats(Yankees): 5.02 ERA (12-8) 153 Strikeouts 1.47 WHIP
Phil Hughes (Age:26)
(2012 Stats(Yankees): 4.23 ERA (16-13) 165 Strikeouts 1.26 WHIP
STARTER OVERVIEW
Boy this starting staff for the Yankees is not very good at all and there could be some serious problems for the Yankees this year because of it. As you can imagine the no doubt ace of this team is CC Sabathia the guy is just a workhorse and you get constant good production out of him. You could start to see some decline in this staff this year especially with how bad the staff looks behind Sabathia. Yanks brought back Kuroda who at times showed great stuff last year but at the age of 38 he is wildly inconsistent and not really who you want at the 2 spot. Behind that it really gets bad with a 40 year old Andy Pettitte who gave some good production but at 40 years old you can't expect much. Along with all that inconsistency you have Ivan Nova and Phil Hughes in the end with even more of the pitching you cannot count on and behind Sabathia this rotation could have the potential to be disastrously terrible this season. If that worst case scenario does happen also look for Sabathia who has had even more increased pressure with these bad rotations to start to decline a little bit also.
Bullpen
Closer Mariano Rivera
RHP David Robertson, LHP Boone Logan, RHP Joba Chamberlain, RHP David Aarsma, LHP Clay Rapada
If anywhere on the Yankees looks to be very solid it is these group of pitchers right here. The obvious concern with the Yankees bullpen is how Rivera will return after ACL surgery right there. I always try to doubt Mariano's ability but he always proves me wrong and he should be a solid closer once again this year. Along with that you have the hard throwing Joba Chamberlain and David Robertson who has proved he can be an excellent setup man and even closer. This bullpen should be a huge asset for the Yankees this season especially if the starters have trouble performing.
Major Loses
C Russell Martin (Pirates)
3B Eric Chavez (Diamondbacks)
OF Nick Swisher (Indians)
OF Raul Ibanez (Mariners)
OF Andruw Jones (Japan)
P Freddy Garcia (Padres)
P Derek Lowe
P Rafael Soriano (Nationals)
FINAL WORD
You have to expect that the Yankees will be the in playoffs every year but there are just way too many glaring issues on this team. For the lineup I expect Cano and Granderson to be the monsters in the lineup they usually are with lots of power and home runs as usual. As for the rest of the infield Jeter should start to take his final decline as he reaches the end of his career and Teixera should once again have power but struggle with injuries. As for the pitching CC Sabathia should be a Cy Young candidate again but behind him I think the Yanks rotation will look atrocious and be a giant problem for this team. In the end the Yankees are an experienced team and full season of speed from Ichiro and Gardner should really help out I think missing the playoffs may be a possibility in a very competitive AL East this year but I think they get in with a Wild Card in the end. Only time will tell and we will see as the Yankees try to win the division once again thanks for reading.
– Bobby Manning